Dr. Albert C. Mak and his staff are dedicated to providing quality patient care while also offering the best and latest technology in radiation therapy. There are many cancer treatments available today, and we make sure we work with referring physicians to find the best treatment option for your unique condition. Radiation therapy, also called radiotherapy, can be used as the primary treatment for your cancer or in conjunction with other cancer treatments, such as chemotherapy.  
Dr. Mak has assembled an impressive team of board-certified radiation oncologists with extensive backgrounds in Intensity Modulated Regulation Therapy (IMRT) and Image Guided Radiotherapy (IGRT). Dr. Mak is also pleased to offer Pasadena CyberKnife Center, the only radiosurgery cancer center in the Los Angeles area to offer radiation treatment with the CyberKnife System.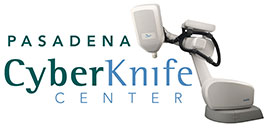 What Is CyberKnife?
An alternative to surgery, treatment with CyberKnife is a non-invasive option for the treatment of both cancerous and non-cancerous tumors. Using state-of-the-art technology, the CyberKnife System is the only radiotherapy system with the ability to track the subtle movements of the tumor in real time. CyberKnife's tumor-tracking ability ensures sub-millimeter accuracy using high doses of radiation aimed directly at the tumor. Such precision also minimizes exposure to surrounding tissues, organs, and nerves.
CyberKnife is the only external beam robotic system that is dedicated to stereotactic radiosurgery (SRS) and stereotactic body radiotherapy (SBRT), also known as stereotactic ablative radiotherapy (SABR).
Treatment with CyberKnife
The CyberKnife System is now used to treat a variety of cancers, including:
Brain Cancer
Head & Neck Tumors
Spine Cancers
Prostate Cancer
Lung Cancer
Pancreatic Cancer
Liver Cancer
Kidney Cancer
Trigeminal Neuralgia
Treatment with CyberKnife is completely non-invasive and is used on an outpatient basis. Treatment will be completed in 1-5 sessions within the span of one week. Just relax and let the CyberKnife System do the rest. No uncomfortable or stabilizing hardware is required.
When meeting with you, Dr. Albert C. Mak and his staff will discuss your options and if treatment with CyberKnife is right for you. CyberKnife is just one of many different effective treatment options that we offer. You can have peace of mind knowing that we will find the ideal treatment option for your unique condition. If you have more questions about CyberKnife, please visit us at the Pasadena CyberKnife Center.